Halluzi


Music for passers-by, sound installation for a street. 2007
15.6. - 15.8.2007 Kurfürstenstrasse /corner of Potsdamer Str. Berlin




The Kurfürstenstrasse in Berlin is a street where wishes and dreams manifest themselves but also where the realities of life contradict the realization of these dreams.
The sound installation consists of 12 short sections, seperated by pauses, which where recorded in situ and/or relate to different places along the street: a 'Woolworths' store, a 'Money-Transfer' bureau, 'Café Nile', the furniture warehouse 'Hübner', a film production company, the Viennese coffee house 'Café Einstein', foreign embassies, a church, a subway shaft, prostitutes and the LSD ('Love, Sex, Dreams') -store, as well as a privatized public toilet house. All sound are to some extent electronically modified and distorted.
Four loudspeakers are fixed to the gate of a parking lot. The passers-by can dive into the sounds of the 4-channel-installation, and integrate them either into their daydreams as an auditory hallucination or accept them as part of the loud soundscape of the street.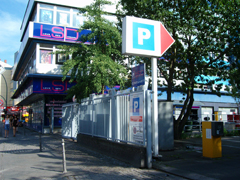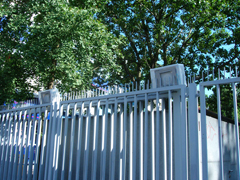 > sound sample Money Transfer
> sound sample Woolworths
> sound sample Cafe Nil